Specialized in treatment of back problems, sport injuries and physical symptoms with a psychological component. To make an appointment call or text me at 06-18480161, send me a Whatsapp or email me at info[at]fysio-coaching.nl. You can also fill in the contact form under 'Contact'.
drs. Francine Herrebrugh
Physical therapist (Physiotherapist) & Psychologist
Therapy
You can contact me for all your physical problems and/or psychological illness. You don't need a referral from your general practitioner("huisarts"). My therapy is focused on addressing and eliminating your symptoms as soon as possible, followed by treatment preventing symptoms to return.  As physical therapist (physiotherapist) I know that physical symptoms often have a psychological cause, and as psychologist I know that a good physical condition  positively impacts one's psychological well-being.
Specialization
Physical therapy (Physiotherapy):
– treatment of sport injuries
– anthralgia ('aching joints') and back problems
– rehabilitation after an accident or surgery
– massage
Coaching:
– hyperventilation
– chronic fatigue
– tension headache
– anxiety disorder and depression
– burn-­out problems
– physical symptoms with likely psychological cause
Practical information
– The practice is located in de Pijp in Amsterdam. Address: Tweede van der Helststraat 25, Amsterdam.
– Physiotherapy sessions are also possible at home (de Pijp, Oud-Zuid and Rivierenbuurt).
– Referral from GP is not required.
It is possible to make appointments on Saturday!
About me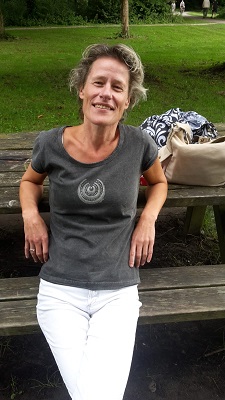 My name is Francine Herrebrugh (1973) and I am a physical therapist (physiotherapist) since 1997. I studied physical therapy at the Hogeschool van Amsterdam. After graduating in 1997 I started working part-time as a physical therapist, while studying psychology at the University of Amsterdam from 1997-2001. I have worked in several physical therapy practises in Amsterdam, as well as a health clinic in Bilthoven. In 2012 I started my own physical therapy practise in Amsterdam de Pijp (Oud Zuid).
My educational and professional background in both the physical and mental aspects of the human body and mind, allows me to offer my patients/clients the right type of treatment. In some cases the treatment will be purely focused on solving the physical symptoms, in other cases the physical symptoms are caused by mental problems requiring a combination treatment.
The Practice
My physiotherapy practice is situated in de Pijp close to the Rivierenbuurt in Amsterdam. In the same building you can also find a hair dresser, a beautician and a pedicure. The practice was renovated in the the Fall of 2022.

Each year Qualizorg BV, an independent health services company, conducts a customer satisfaction survey. The survey scores the practice on various aspects, such as personal contact, treatment plan and results, and the practice itself. I am very happy that my patients/clients continue to be very satisfied.